Thanks to the March P&G coupons, I finally had the chance to try the All New COVERGIRL UltraSmooth Foundation + Applicator. This is a very expensive foundation for drugstore, and being a stingy asian that I am, I will NOT pay $17 for a drugstore foundation. I waited for a few weeks to get a good deal at CVS, and ho, behold, thanks to $3 off manufacturers coupon and $5 off $15 cosmetic purchase from CVS, plus $5 back in Extrabucks, I purchase this little guy for roughly $4. Maybe I can teach you the basics of couponing next time?
Ok enough of the couponing shit.
This is the newest foundation from Covergirl and it comes with an applicator. It claims that it will smoothen and minimize the look of facial hair.
The applicator is so annoying and it's useless as fuck, it's a waste of time to use this. So just go ahead and use your brush or sponge.
For this review I used a makeup brush; My shade is medium beige, and it's a perfect match. Application using a makeup brush is easy as 1-2-3. View the complete list of ingredients HERE.
The coverage is medium and it looks like my natural skin, it's definitely not a matte finish, it's more of a dewy natural look finish. Please do take note that my skin is oily, so I needed to put powder on.
It was about 11am when I finish my make up and I went ahead to do what I needed to do for the rest of the day.
Testing 101
After 3 hrs, my face is sooooo oily. Any one needs some cooking oil? Gross. lol. I badly needed some blotting on my face. I didnt really touched up or powdered, it was just some blotting...
After 4hrs, the foundation is still looking good and it's holding itself up, I can still see my blush and bronzer. I love the look of this foundation as it looks so natural.
How it looks on natural light... My skin looks naturally healthy to be honest
I also went out with my husband to get some groceries in Fresh and Easy, but first let me take a selfie. Foundation is still on point.
Back in the car, and I took a video...


The end of the day:


After 8hrs in total, I'm looking soooo oily. I can still see my foundation though, however I observed that in some areas such us the sides of my nose and under eye, the foundation had already faded.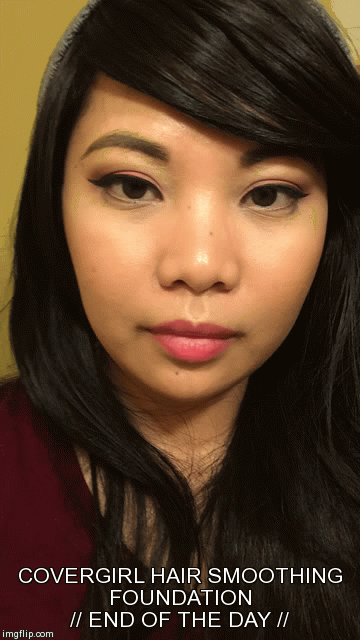 FINAL THOUGHTS

Over all, I can still say that it lasts the whole day. I went out for groceries and did some laundry, ran some errands and my foundation still looks satisfactory. It's the oiliness of my face that bothers me. This foundation is definitely not for people with oily skin. I only touched up once with a blotting paper, however I do know that I needed more touching up/ blotting.
It claims that it lessens the look of the facial hairs, but I didnt notice that much difference at all. As I mentioned earlier, it looked very natural and dewy. So if you're into that, then go for it. If you have an oily skin like mine, you may want to pass on this one.
They have a good variety of skin tones, so I'm pretty sure you will find your match. In general, I still wouldn't recommend this foundation because of the following reasons; This is an expensive foundation for a drugstore ($17), you can definitely find better. It will suit the normal to dry skin types, so it's a big NO NO for oily skin. It's only 25ml, that's too small for $17, comparing it to their Covergirl Ready Set Gorgeous foundation which retails at $7 with 30ml on it. The silicon applicator is a fucking waste of time, I think it's just a gimmick. So nope nope.