Hola! I'm back for another foundation review! I've been on a foundation testing spree since CVS have their awesome cosmetics deal. Today, I am reviewing the Physicians Formula Youthful Wear Youth-Boosting Foundation. I actually returned the product because I didn't like it (I hope you would still read the rest of this entry), and I totally forgot to take a photo of it. So I just grabbed the photo from Physicians Formula website.
This particular foundation retails at $15 and it comes with a foundation brush. It's 1 FL OZ, it claims to be Hypoallergenic. Fragrance Free. Paraben free. Gluten Free. Non-Comedogenic. OK that's a lot of shit in there. The packaging is simple and very efficient. I prefer this kind of packaging since you can control how much product you need. This foundation only comes with three skin tone variation, which I think really sucks.
APPLICATION 101
The instructions says:

Apply as Step 2 after Concealer. Lightly squeeze tube to dispense foundation. Apply foundation directly onto face and blend with enclosed foundation brush or with fingertips. Blend evenly until desired coverage is achieved. After use, replace cap onto tube. Follow with powder.
Honestly, the brush isn't that bad, however, I think it's a little to small to get the job done fast. It may help, but I would suggest to use your favorite brush instead. The formula is VERY thick. You have to put a little more effort in squeezing to get more product.
View the full list of ingredients HERE.
TESTING 101
I usually put my concealer first before my foundation so the instructions actually worked for me. I find the product a little bit hard to spread all over my face because of its consistency. Sometimes I would use my fingers to blend it with my skin. It feels a little heavy and I certainly felt that I was wearing a foundation.
The coverage is medium, I'm pretty sure this is buildable, however, I think that it's a bad idea to build it since it has the tendency to be cakey. I finished my makeup at around 11 am, and the foundation looks like this in natural light:
My shade is medium, and I think it matches my skin tone pretty well. My skin may look glowing on that photo, but if you zoom it a little bit, you can visibly see my pores. I feel like the foundation didn't sit well with my huge pores. The good thing is that, my face was matte and not a single trace of oiliness is found.
The foundation is still on point, no trace of oiliness. I, however, can visibly see my pores. Photo was taken using natural lighting. The foundation looked a little cakey at this point.
AFTER 4 HRS...
Here is a quick gif of my makeup in natural light...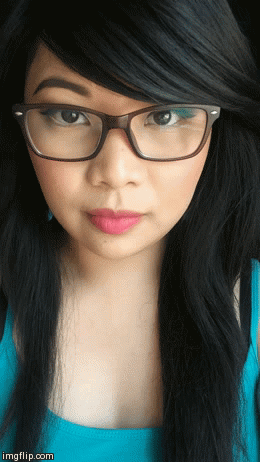 I went out with my husband to get some veggies in Superior and I took a quick snap shot in the car. Here, I obviously noticed that the foundation highlighted my pores; to my surprise though, I am not oily at all. I do have a very oily skin, but the foundation is dealing with it.
Photo taken inside the grocery. My observations are the same.
MID DAY, 5 HRS IN TOTAL...
Here I start to notice some traces of oiliness already.
END OF THE DAY 8 HRS TOTAL, BATHROOM LIGHTING...
At this rate, the foundation faded at some points on my face. I look very shiny and cakey. It has been a very long day anyway, so these are some of the things that I already expected. Overall, I can still say that the foundation lasted the whole day.
FINAL THOUGHTS
As I had mentioned earlier on this entry, I went back to return this foundation to CVS because I didnt like it. Why? The formula is very thick, I dont find it very practical to use everyday. Blend-ability is not so good. I had to use my fingers to apply the foundation at some parts of my face (which I did not mind), however, some people might not like to do that. There are only three available shades, that one alone is a huge miss. The foundation did lasted the whole day and it kept my face matte for a long period of time, but then it looked cakey. I do not mind touching up once or twice throughout the day, but looking cakey is a big NO NO for me. Considering its price of $15, I feel like it's not worth it.